A mammoth post this time, as expected by Andy Bent, the instigator of all this...
With the impending release of the film adaptation of Watchmen on March 6th, The Guardian website ran a Watchmen based storyboard competition. Participants were asked to storyboard the following page of the film's screenplay chosen by the film's director Zack Snyder.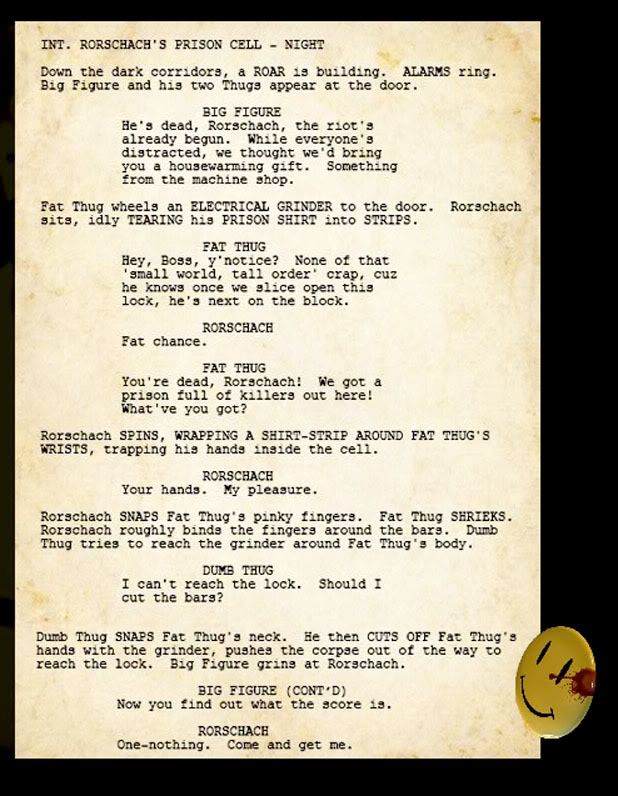 The top prize was two tickets to the Watchmen movie world premiere on Feb 23rd, the chance to meet Snyder for a short Q&A session and accommodation for two in a top London hotel. As the top five entries would be looked at by the film's director and the overall winner chosen by him, it meant that even the runners up might get their work before the eyes of one of Hollywood's hottest talents.
Well I love Moore and Gibbons original Graphic Novel and I've had some success in previous storyboard competitions so why not try? The only problem was I just had a day to get this done. After a fourteen hour storyboarding marathon I finally had something to submit - something pretty rough I thought, but that might at least have a chance at one of the runner up prizes. Here they are - (click on each set of boards for a closer look).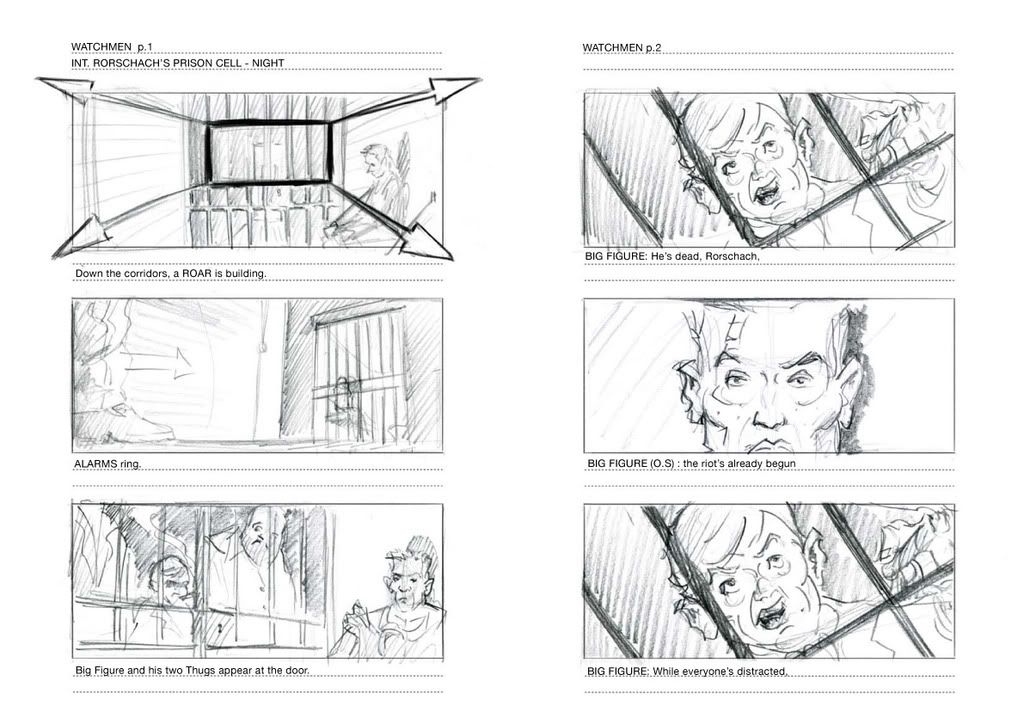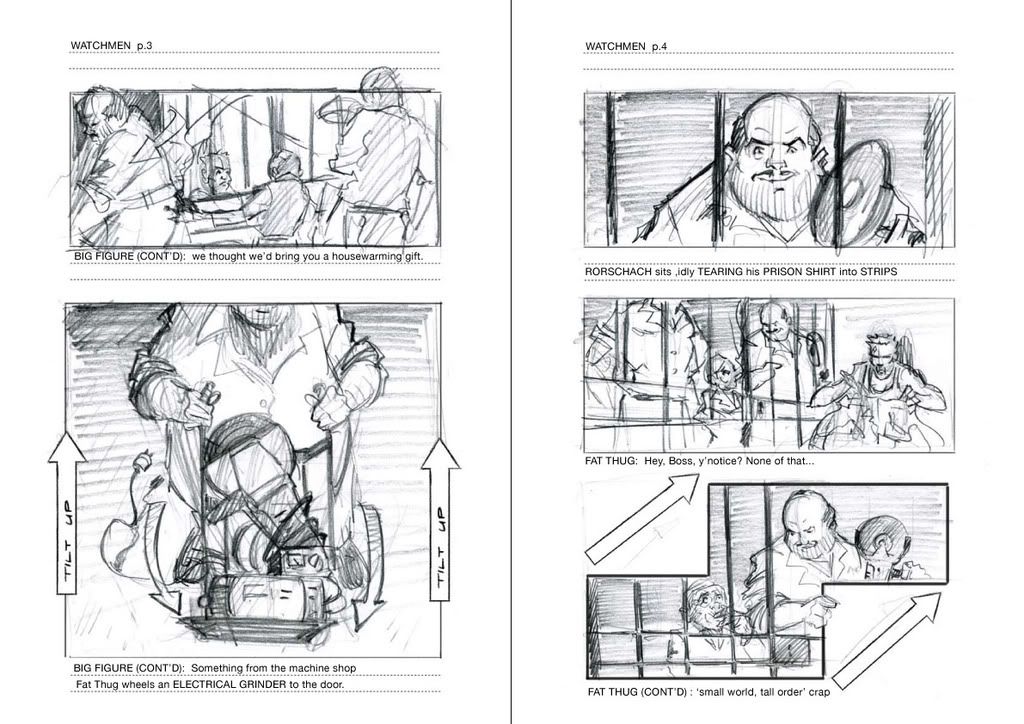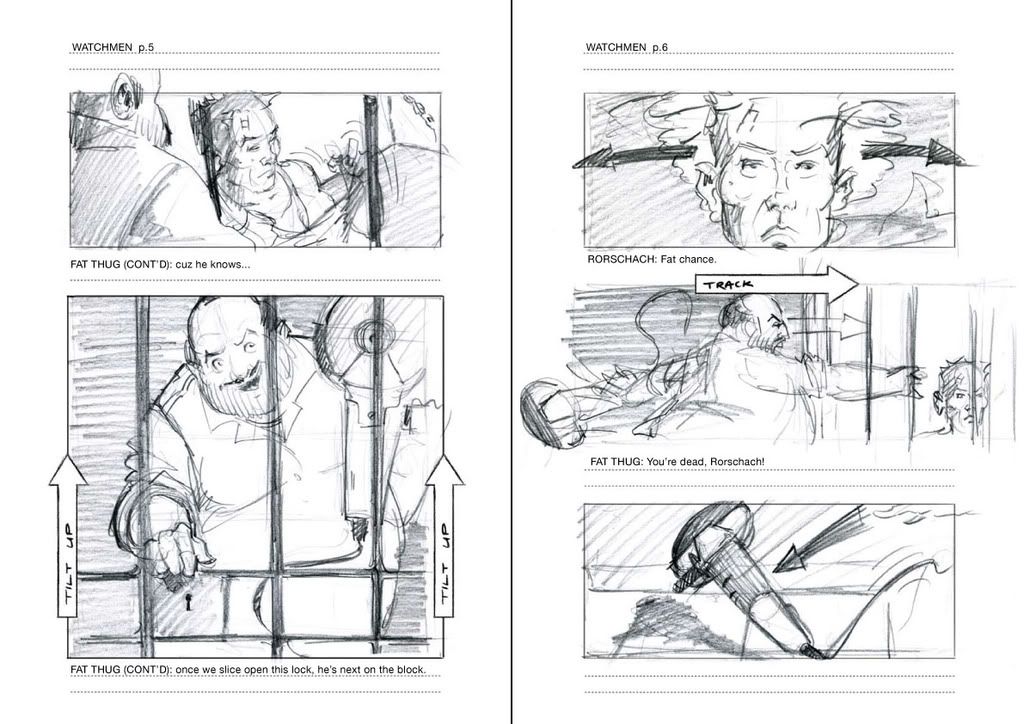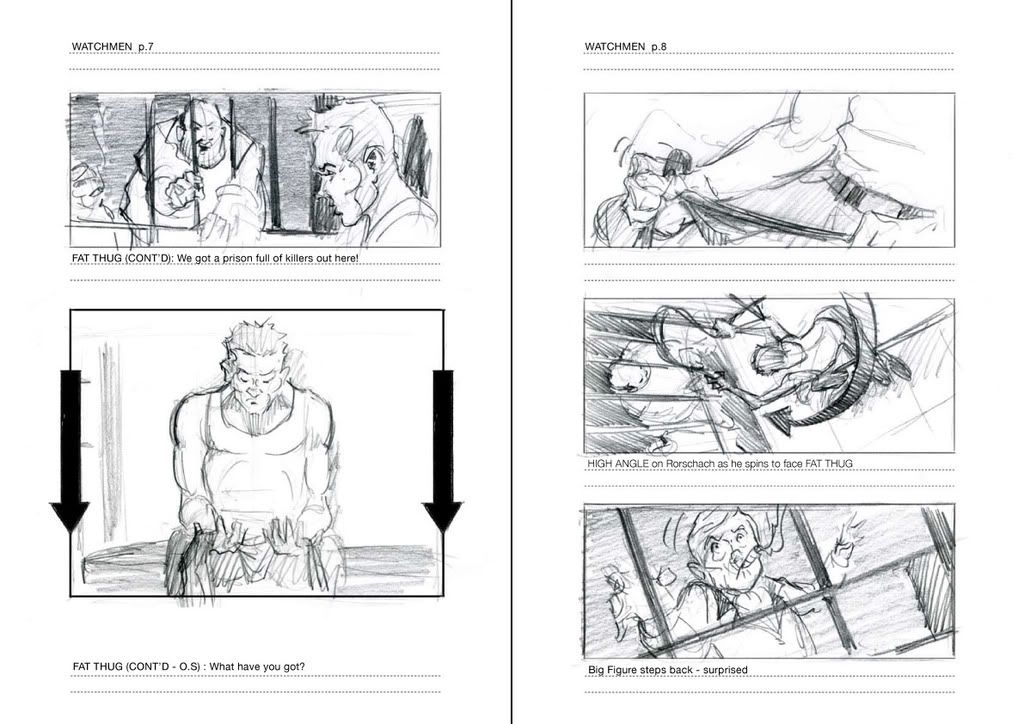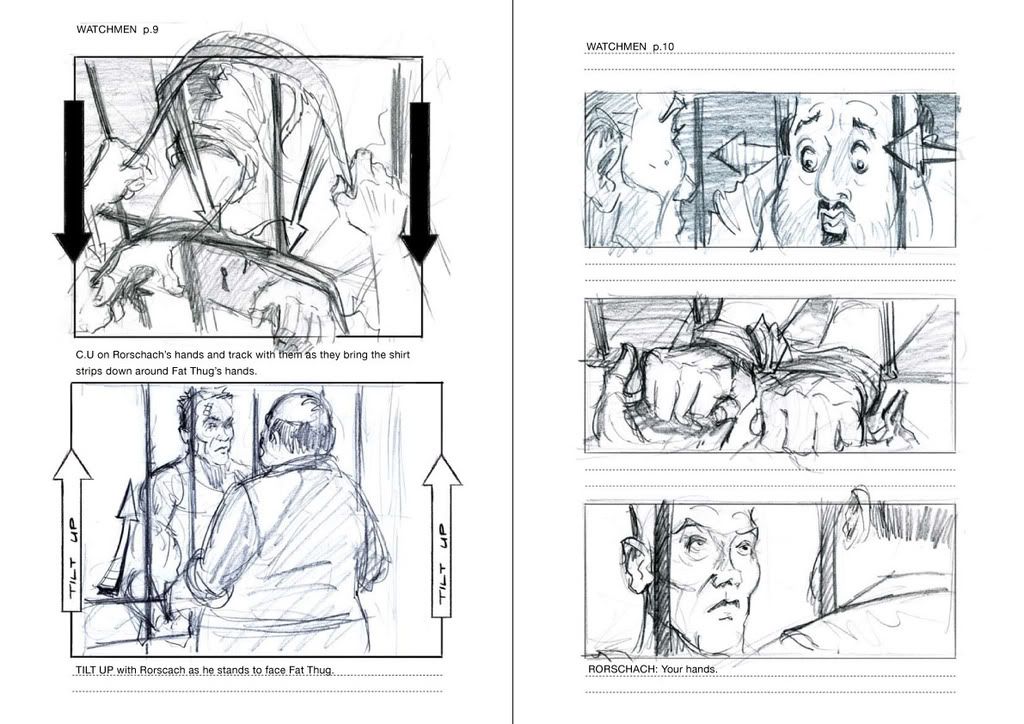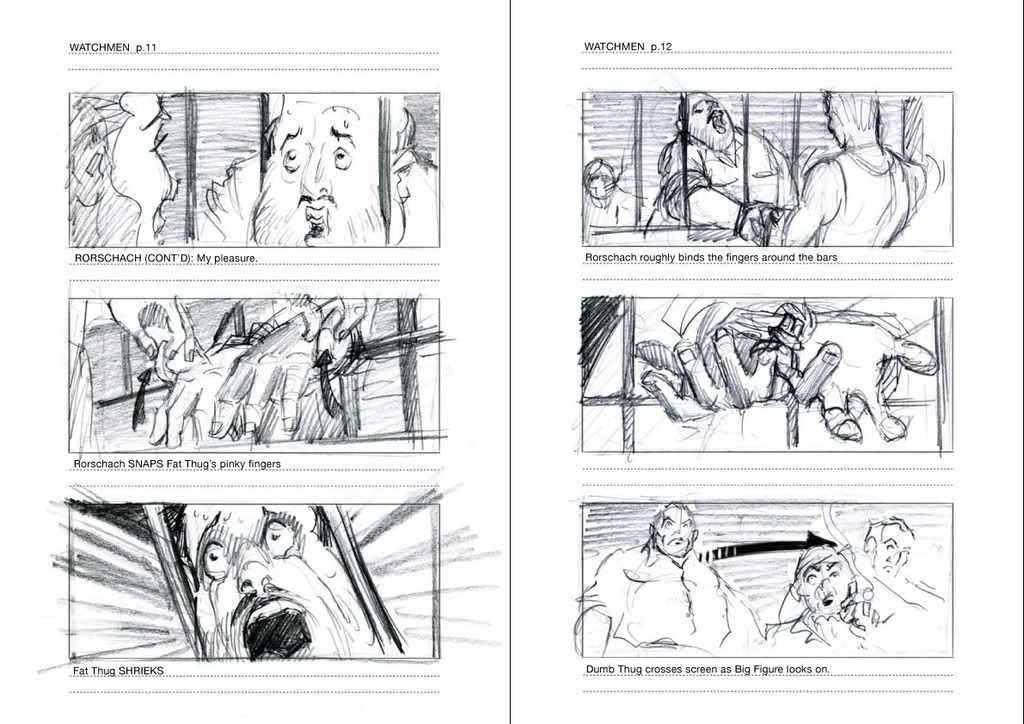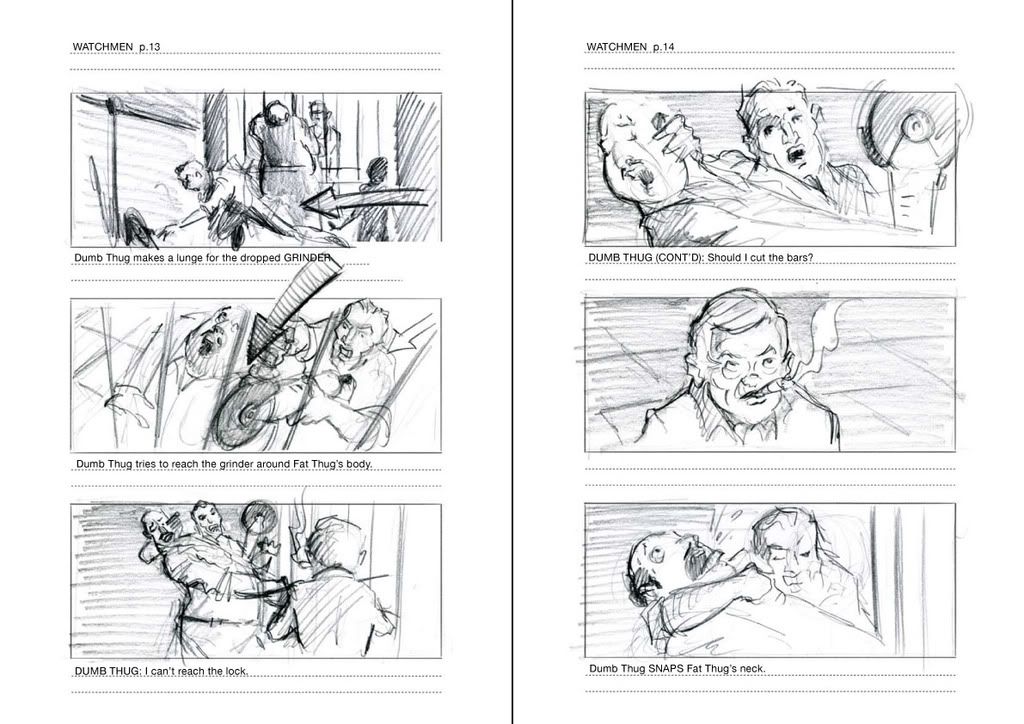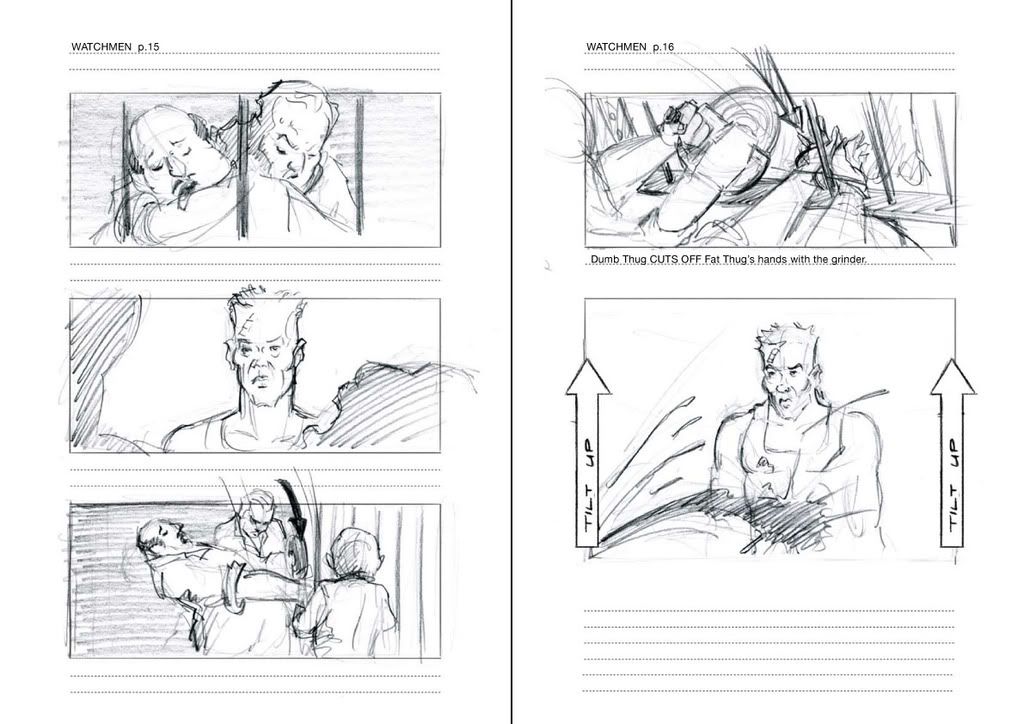 I didn't hear anything on Thursday, the day the winner and runners up were to be contacted, so I thought 'that's that' and just got on with everything else I was supposed to be working on.
Then Sunday night I got a call from Paramount Pictures telling me that because of his hectic schedule Zack Snyder hadn't had a chance to look at the finalists until the weekend. When he did get a chance he had chosen me. According to The Guardian my 'professional looking storyboard caught the eye of [the] Watchmen director '. That sounds pretty good doesn't it? What I suppose 'professional looking' might mean is that it looked like the work of someone who's been given an impossibly short deadline and has produced something just about the right side of legible whilst still allowing himelf time to eat. Whatever the reason, I was going to the Premiere!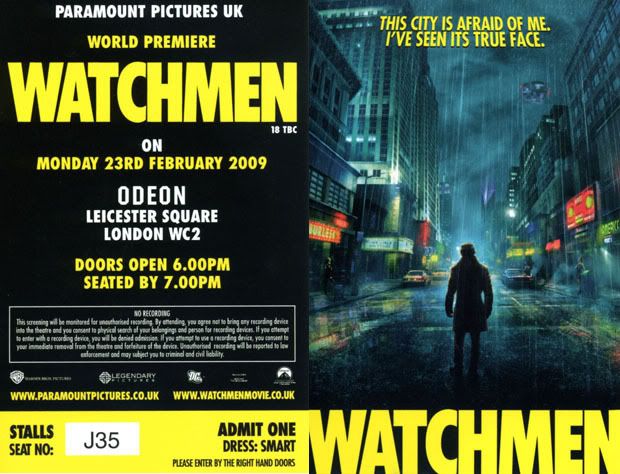 By Monday afternoon I and four other competition winners from around the world were meeting the man himself in a plush Soho hotel suite. Despite having a punishing schedule of media interviews and other promotional work Snyder seemed laid back and happy to give half an hour of his time over to chatting with us. He took another look at our storyboards whilst we quizzed him on his experience making the film.
He spoke amongst other things about his own work on storyboading the script, his reasons for doing this himself and not relying on a storyboard artist, his decision to give Ozymandias' costume nipples and why allowing Nite owl to wear lycra would have ruined the movie (maybe I should have taken issue with this last point, after all Sandy Collora's 2003 fan film
Batman: Dead End
, released over a decade after Tim Burton ushered in the era of body-armoured superheros, had Batman wearing an almost Adam West style lycra suit, and everyone thought that looked great - Kevin Smith described it as 'possibly the truest Batman movie ever made' and Alex Ross said it was 'Batman the way I've always wanted to see him'. My God... I can't believe I just typed that, must have forgotten to take my geek medication.)
By 6pm we were being chauffeured to Leicester square and were soon walking up the... errr,
yellow
carpet.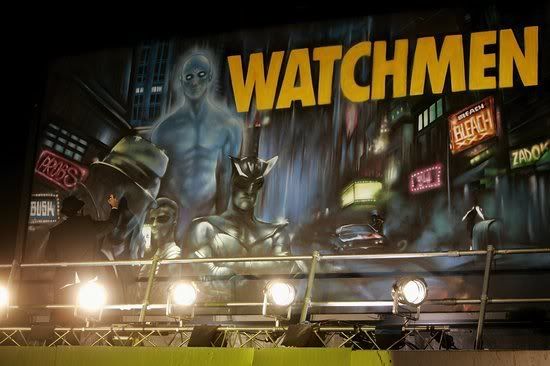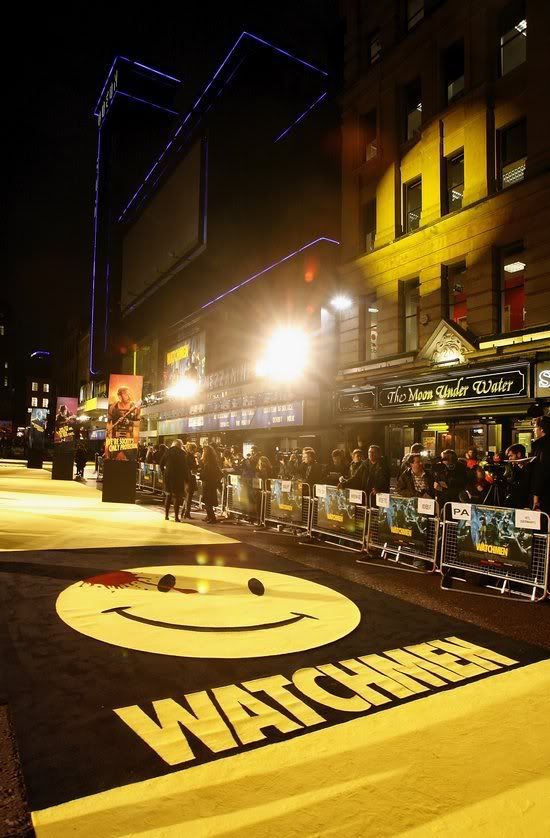 After some official group photos it was on to our seats to await the film that had been deemed 'unfilmable' by its writer, taken over twenty years to produce and had eluded the likes of Terry Gilliam, Darren Aronofsky and Paul Greengrass.
I'm not going to go into a full review of the film itself - there are plenty of those to be found online already - but I will say that it's certainly more faithful to the novel than anyone could have hoped or expected. That Snyder has managed to drag it kicking and screaming to the screen at all is a miracle but considering the source material relies so heavily on the attributes of it's particular medium, it seems doubtful that there could have been a better cinematic outing for it.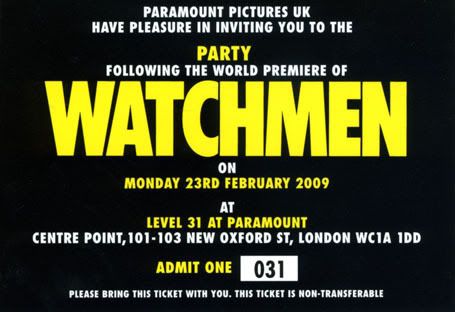 After the film we were lucky enough to get tickets to the exclusive cast and crew party on the 31st floor of London's Centre Point building where we rubbed shoulders with (or at least stumbled drunkenly into) stars of the film such as Billy Crudup, Carla Gugino and Jackie Earle Haley , as well as Watchmen co-creator Dave Gibbons. So, much star spotting was done and many free cocktails downed.
On leaving the party we didn't even have to worry about navigating our way home as the lovely people at Paramount had us booked into the luxurious St Martins Lane hotel with its crazy Philippe Starck designed lobby, all golden teeth stools and garden gnomes. A suitably surreal end to the evening
So that was our unlikely Watchmen adventure. Huge thanks must go to Zack Snyder for first of all making the film, then picking my work, and then giving us a chance to meet him. Thanks also to Yalin, Nina and everyone else at Paramount for looking after us and treating us so well, to Andy Bent for sending me the link to the competition and not entering and winning himself, and to Carrie for forcing me to take part and then being my beautiful date for the evening .
Now go watch the Watchmen.