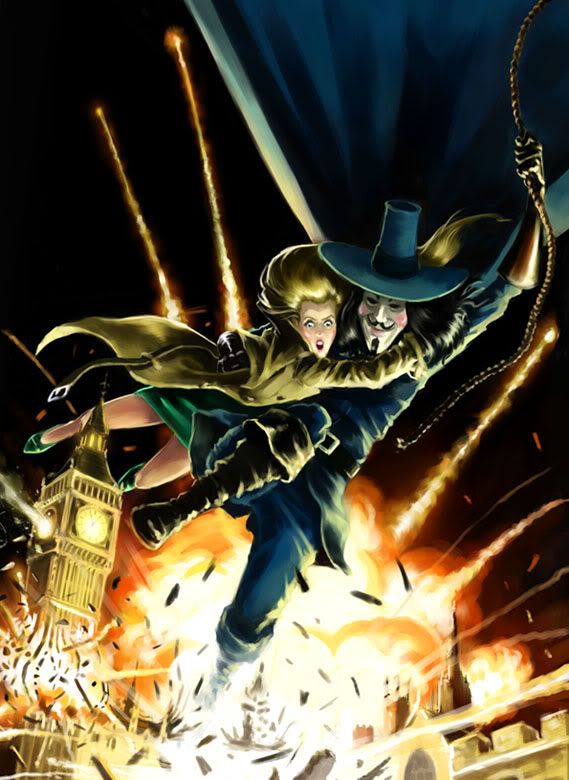 My tribute painting to Alan Moore and David Lloyd's brilliant V for Vendetta. The finished piece above and a detail from the same, below.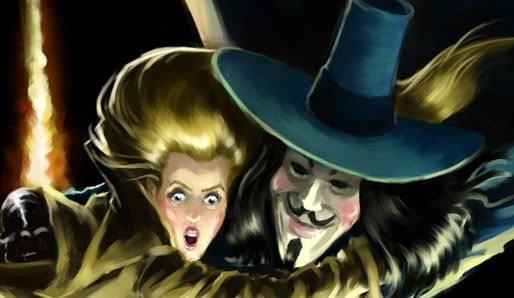 I reread the graphic novel last year and was surprised by how much the main character seemed to have in common with 30s Pulp heroes such as The Shadow or The Spider ( I had been looking fairly closely at 30s pulp adventures for a number of other projects at the time, so this should have been no surprise).
At the back of this particular edition there was an essay by Alan Moore detailing the origin of the project. I was genuinely surprised to find my intuition was right and that the genesis of V rested in a brief from Dez Skinn to David Lloyd to 'create a new thirties mystery strip'. Moore was brought on board as writer, seeing the project as 'a new way of approaching the thirties pulp adventure strip'.
With Lloyd unhappy at the thought of the hours of research needed to visualise a realistic 30s setting they eventually placed their story in the near future rather than the near past, where they reasoned they could "create the same sense of mingled exoticism and familiarity".
All this set me thinking of a V for Vendetta image that would bring its Pulp heritage to the fore. I was thinking of the moody Shadow covers by George Rozen, but in terms of composition I had a comic book cover in mind which showed a masked avenger type vaulting over a city scape. I couldn't find a copy of the image while I was working on my V painting but eventually I came across a copy online and turns out it was Green Giant comis no.1 (below). Must have seen this in a Super Heroes Encyclopedia I had when I was a kid.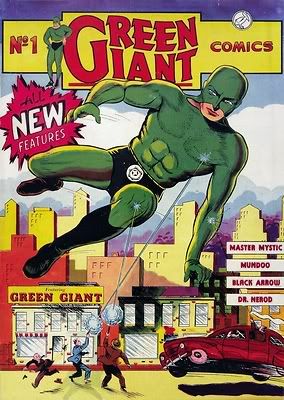 I found plenty of other inspiration from the Pulps of the thirties. There were a few Shadow/Spider elements I wanted to work in to the design.
The Shadow's liking for leaping fitted pretty well with my original vaulting Green Giant idea -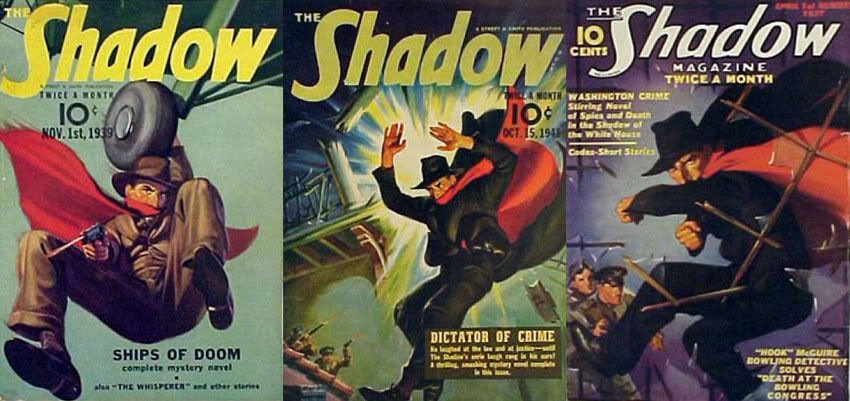 The motif of a gigantic version of the main character looming over or dominating in some way a piece of architecture or cityscape (shades of the Green Giant again) -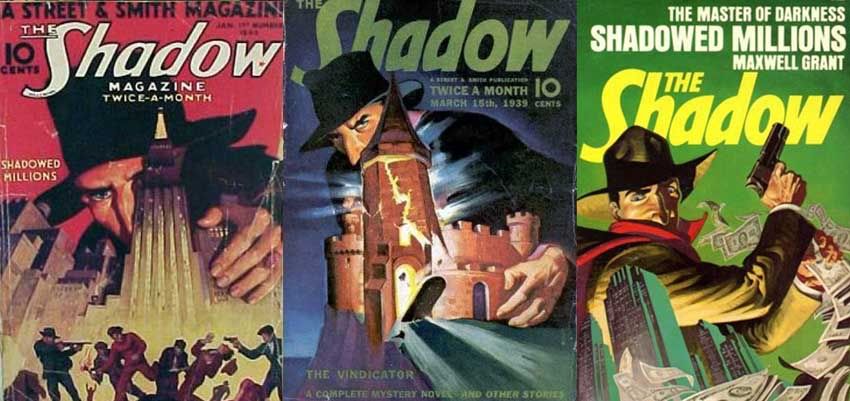 The hero swinging into action with a girl on his arm. The Shadow didn't seem to get the girl too often (poor old Shadow), but The Spider did, as it seems did every other Pulp hero. I really wanted to get the character of Evey into this image as well so really I needed something like this -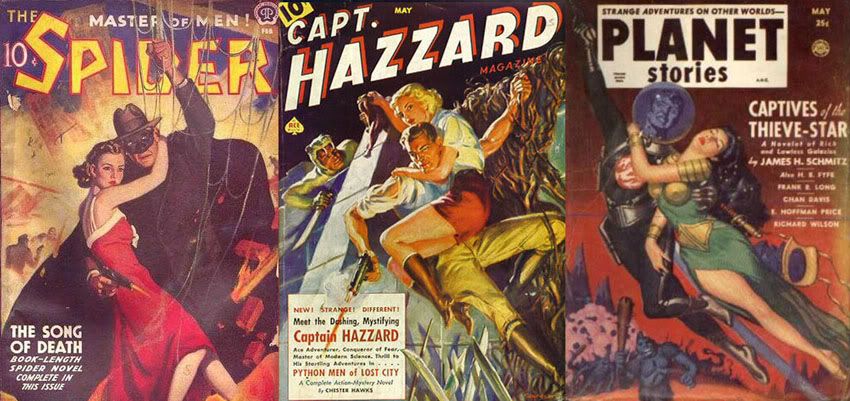 Below is my initial very rough sketch after collecting my references. It may need some interpretation - thats a gigantic version of V with Evey on his arm swinging above an exploding Houses of Parliament and kicking over the tower of Big Ben.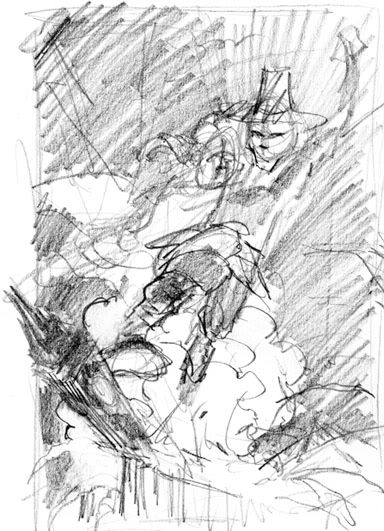 I got some more reference material together from photos of Parliament and from some photographs of myself in embarrassing poses and mixed them together in Photoshop.
From the colour composition (above) I worked on a more detailed pencil sketch (below).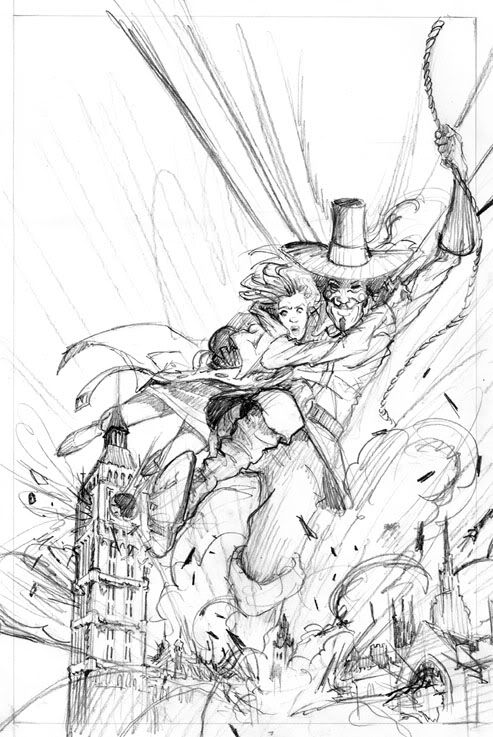 This was scanned into my Mac and taken into Photoshop and Painter, and beaten with various digital brushes until it looked like the image at the top of this post. Somewhere along the way Big Ben escaped the wrath of V's boot but still got blown to bits anyway.